How-to
Wedding Registry 101: How To Build Your Wedding Registry
Discover, manage, and track all of your vendor communication, contracts, and timelines in one place.
Gifting time for weddings is always an ordeal. Whether you're the nearlyweds or the guests, there's a method to the madness, a strategy for developing a phenomenal wedding gift registry that'll help your friends and family choose the right gifts before the wedding day. You've probably heard of a wedding gift registry, though some of you aren't sure exactly what it entails.
Definition: A bridal registry or wedding registry is a service provided by a website or retail store that assists engaged couples in the communication of gift preferences to wedding guests.
So you think you're ready to start building your wedding registry? Not so fast! There are a few key details you'll want to keep in mind before you get started!
Inventory what you already have
Knowing what you own will definitely help you determine what you need. On the other hand, surveying your stuff also is a chance to decide if you want to upgrade to a higher-end version. You don't want to end up with more gifts than you actually need.
Keeping inventory will not only help you sort through all the various gift ideas your lifestyle calls for, but will also help the entire process go much smoother.
Avoid registering for wedding gifts you don't need. Creating an inventory list not only tells you if you have too many salad plates or not enough champagne glasses, but also helps prioritize. Is an amazing honeymoon more important to you than upgrading your appliances? Would you rather invest in your hobby than your linens? You do you!
Make a list of gift ideas
Going in blind is bound to end disastrously. You'll end up getting a ceramic gravy boat and wondering why the heck you registered for it in the first place. Instead, making a list and dividing it up between the things you want and the things you need is completely acceptable.
Maybe you and your S.O. are practical people and find that creating a list of things you'll definitely need during your married life is important, just be careful with listing seasonal items. It could be super-specific with brand names and colors, but even just a vague list will help keep you on track.
Do your research
Read those reviews, especially for electronics and appliances! You'll spend the rest of your life (or at least a long time) with whatever you pick, so choose wisely. And consider registering at specific stores based on where those choices are available.
Crock-Pot
Crock Pot
Crock-Pot 6 Quart Cook & Carry Programmable Slow Cooker with Digital Timer, Stainless Steel (SCCPVL610-S-A)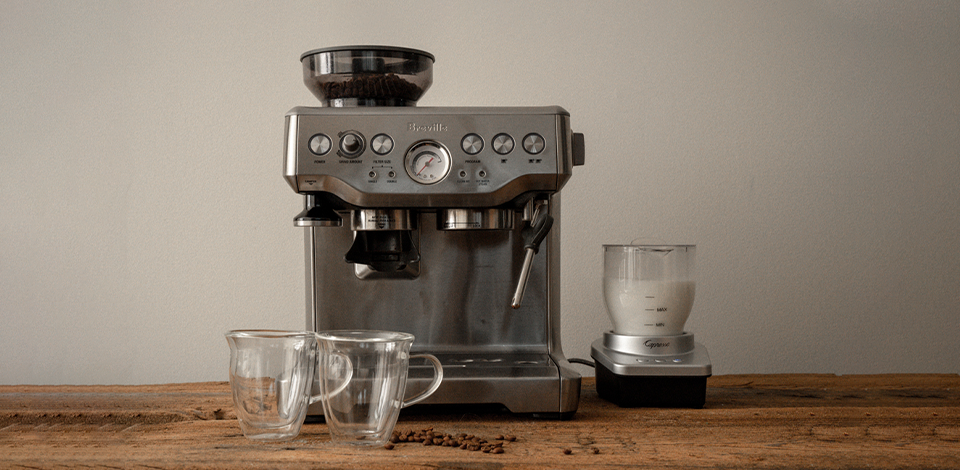 Mix up price points
Before you go scanner-gun-crazy, review that wish list. Is everything really, really pricey? Did you choose the lowest price item for everything? Neither is ideal. You want to have a solid mix so that your favorite aunt can splurge and your college-age cousin can save.
Allow people to be generous and consider registering for big-ticket items such as furniture, but don't leave anyone out. Along with higher priced items make sure that you give your friends and family options with wide price ranges, just so they don't feel obligated to spend more than they can afford.
Some guests might choose to purchase multiple small gifts while others might prefer one higher priced option. In addition, sometimes couples list expensive items on their registry with their completion program in mind. This allows them to purchase items that weren't bought off of their registry after their wedding with special discounts.
Weddings are one of those occasions where family and friends feel generous with gift giving, but you never know what someone's financial situation is and what price points might be comfortable for them. Ideally, you want to create a registry that's full of all the items, both essential and adventurous, that last more than a few years so that the married couple can continue to use and cherish them well after they can recall who got it for them.
Talk to a registry consultant
Having a list in hand while shopping keeps you from going trigger-happy, and in some stores, a registry consultant can help you remain focused. Many stores staff registry consultants, who will sit down with you (typically for FREE) to discuss the registry process while providing expert advice. They can answer all your questions about return policies, managing the registry, and post-wedding deals.
Sometimes having an extra person by your side is the difference between adding a good gift and a great gift onto a single registry.
Apply to multiple wedding registries
Having more than one wedding gift registry not only gives your loved ones more options, but yourselves as well. This allows you to have a good mix of household items, furniture, outdoor gear, and experiences like honeymoon funds to look smart, not greedy.
Guests want to celebrate the both of you and purchase gifts that not only have meaning to you, the engaged couple, but makes them feel good as well. Gifting a waffle maker might not excite everyone but when you give guests options, they'll definitely find something that stands out to them. By having more than one gift registry you're providing your guests more gift suggestions. Whether one of them is from a big box store with a set of crystal wine glasses and the other is a crowdfund for charity donations, your wish list is yours.
You want to make sure that all of your registries are clearly listed on your wedding website. This way guests can browse each wedding gift registry and pick the gift that they feel excited about.
Registering for traditional gifts is NOT a must.
Registering for traditional wedding gifts isn't an absolute must. A lot of modern couples are stepping outside of tradition and marrying a little later than they used to. Most nearlyweds already have the amenities that are commonly found on the traditional wedding registry, therefore you'll more than likely see a wedding registry that's less traditional and more personalized.
While necessary household items are truly essential (toaster ovens, china, tableware), get creative! Your guests will get excited to see items on the registry that are unique to the two of you. If you're both artists, a new canvas or set of oil paints is a brilliant idea. Whether you and your S.O. are outdoorsy people or are in the middle of settling in a new home, consider opting for a registry wish list full of furniture. A wedding gift registry full of presents that fit your specific needs and lifestyles is what will truly be appreciated.
HOMSHO
Side Tables with Tempered Glass
Modern style minimalist design, made of black colored metal and clear tempered glass, suitable for your home. Two-layer storage can hold more items; small size makes it easy to move around without taking up too much space.
With that said, gifting memories is becoming more and more popular. Whether you're contributing to an experience such as the honeymoon or buying them tickets to a concert or music festival, the idea is that a lot of couples will cherish these memories for the rest of their lives.
Be The Early Bird
Register early. Although most guests really begin to purchase gifts two weeks before the actual wedding day, if you're having an
engagement party
or an early bridal shower, it's especially important to prioritize the wedding registry.
Giving yourselves plenty of time to register is also key, as it may take more time than you realize to decide what you really want. Do it together. Both you and your future spouse will have to live with the things you pick, so be sure to shop together. Not only can registering be a fun date, but it helps you learn how to mesh your styles and compromise.
In-store or online stores
There are typically two ways couples register for gifts, and it's likely you'll do a combination of both. Some may think of registering as running around a department store scanning things with a hand-held gun. While that can be fun, more importantly, it's imperative for all those items that call for a touch test. You wouldn't buy towels without actually feeling them first, would you?
Most major chains allow you to register online (or at least get started online) and also in-store which is a perk you'll definitely want to use (and one that comes highly recommended among our past Loverly couples!). Other non-traditional registries like Zola, and Honeyfund are web-only, so you'll set up your wedding registry digitally. This process has its perks, too — you can take your time without any constraints while you research and register as you go.
After You Register
Now that the registry is set up, it's time to spread the word.
There are right and wrong ways to share your registry
, so be mindful of etiquette. Revisit your registries. As the wedding approaches and guests start shopping, be sure to check in on your list — not to see what you're going to get, but to make sure there's still enough available. If the registry is dwindling, feel free to add a few more items — guests that haven't got a gift yet will appreciate this!
Registry Etiquette
If you know the couple like the back of your hand and want to get them a unique gift that you know they'll love but wouldn't have thought to ask for, that's perfectly fine! But stick to the registry if you're buying something they did ask for. For instance, if a couple registers for a Dutch oven, they probably chose that particular Dutch oven for a reason. It's not cool to buy them a different Dutch oven just because it's the one you like.
Le Creuset
Round Dutch Oven
Le Creuset Enameled Cast Iron Signature Round Dutch Oven, 5.5 qt., Oyster
Also remember that no one is required to give a wedding gift. If money is tight or you don't know the couple well, it's absolutely fine to not give a gift. Send them a card with a few heartfelt words instead. It's an inexpensive way to show your love and support for the bride and groom. As for the nearlyweds, be grateful that people want to buy you gifts at all and don't get too caught up in who gives what, or how much they spend.
Shop what's left
Many online registries give newlyweds a completion discount on registry items that weren't purchased. These deals can be a great way to get what you want and save some major cash, so don't ignore this perk! While these tips should help point you in the right direction, know that every couple is different. Your personal priorities, style, and guest list can and should influence what you ask for.  
Sharing your wedding registry
The best places to include your registry information is on the
bridal shower
or engagement party invitations. Chances are, most couples aren't throwing their own engagement parties, so having the host add a link or note in the invitation mentioning the wedding registry with a link to the wedding website is completely fine.
Don't mention the registry on the wedding invitation
Everyone invited to the wedding (even if they can't end up coming for the celebrations) will get that info and be able to figure out the details for themselves if they want to buy you something in honor of your nuptials. Whatever you do, don't put your gift registry info on your wedding invitations. 
Make sure to add in that wedding website somewhere on the invitation, but there should be no direct mention of gifts on your invitation AT ALL — even if you're requesting no presents. (And definitely do not ask for cash in place of gifts!) Remember, gifts are never to be required; putting information about gifts on the invite could send the wrong message to your guests and make them think that you're expecting them to bring a present beyond their presence. Not a cool or cute vibe to give off, even as a bride-to-be.
While a bride or groom asking for gifts directly can be taken as a little rude, your mom, aunt or bestie can feel free to spread the word on your behalf. And, because bridal showers are actually all about the gift giving anyway, guests will want and need to know what it is you'd like to receive.
Avoid listing your registry information on social media
In addition, try not to post a Facebook status with links to your registry. While this might make it easy for some people to find your registry, don't forget that you probably didn't invite every single one of your Facebook friends to your wedding. Plus, it could cross the line into "greedy" territory. Posting a link to your
website
— which should have easy-to-find registry links — is totally okay, though. As is texting or emailing the info to interested parties. Just make the effort to say something like "But please know that your presence at the wedding and kind words are more than enough!" to soften the request.
Use The Wedding Website
Probably the best thing about the new age invention of wedding websites is the opportunity to share your registry information without seeming all "gimme gimme." Include links to the online stores so family and close friends can access them easily and choose their gifts without too much of a hassle.
Just be careful with the language you use to introduce your loved ones to the page: Try something like "If you wish to give a gift to the bride and groom..." to make sure your guests know that gift-giving is an option. Do put your website on your save the date. While you don't necessarily have to say "Hey, here's our registry!" on the save the date, the announcement can be a good way to spread the word about your website.
Use word of mouth to spread info about your registry
Word of mouth still works, so spread the word! Back before wedding websites were a thing, guests learned about registries by asking the bride or groom's family, VIPs, and attendants. And some traditions should never die — so be sure to share the details with your immediate family, bridesmaids, and groomsmen and let them know they can spread the word on your behalf.
Now that you're seasoned with all the tips and tricks and are fully prepared to build your wedding registry, feel the confidence in your decisions while you and your sweetheart build on your dreams!