Maggie Sottero Wedding Dresses for Every Kind of Bride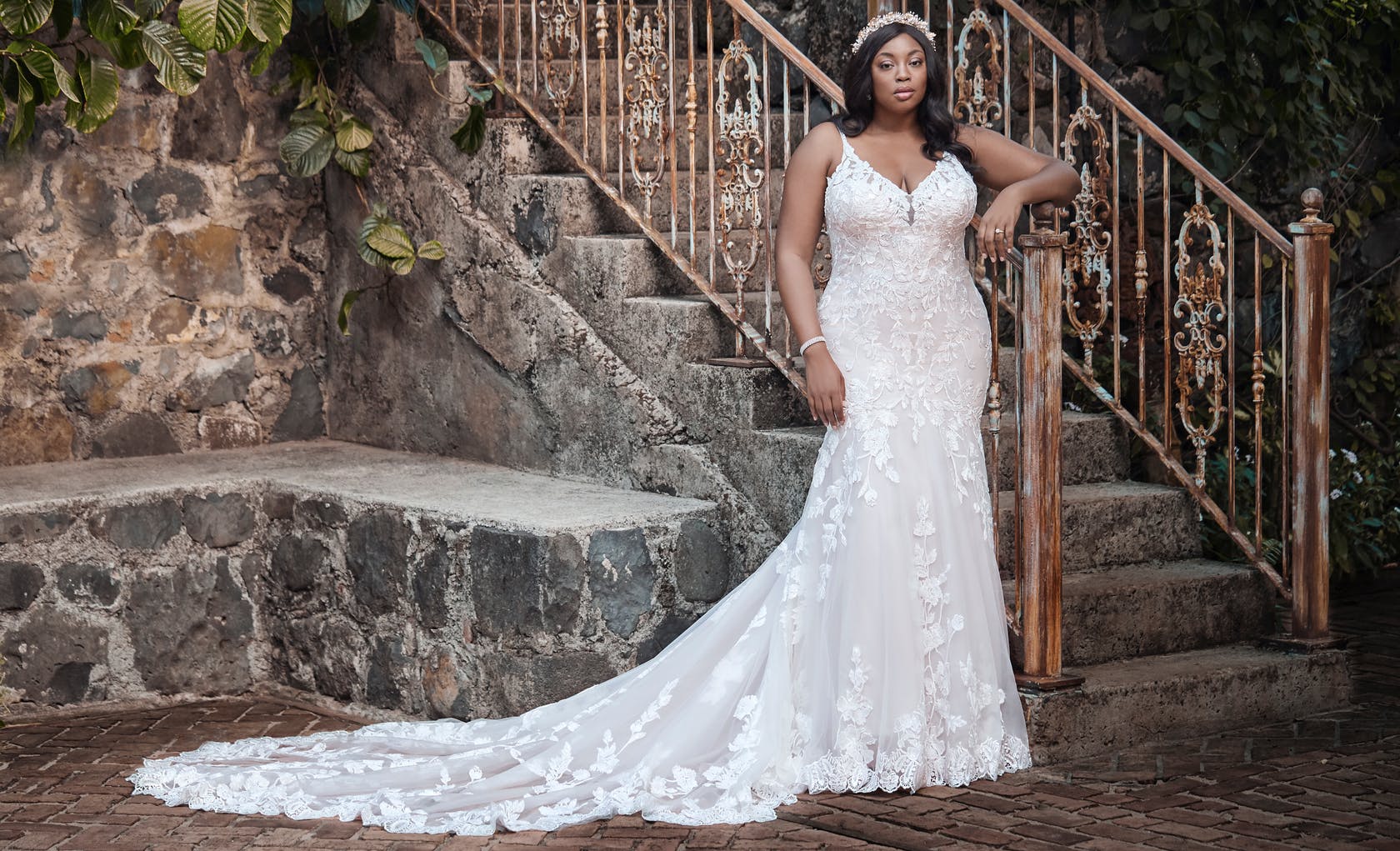 We all know that one of the more exciting (and one of the most stressful!) part of wedding planning is choosing a wedding dress. From the cut of the neck to the line of the gown, it feels like a bride might be able to search forever without ever finding "the one" (and no, we aren't referring to the groom). 
However, something that can help narrow down your search for the perfect wedding dress immensely is aligning with a trusted and established brand, which is where Maggie Sottero Designs comes in.
Who is Maggie Sottero?
Maggie Sottero Designs was launched in 1997 by design director Lesley Margaret ("Maggie") Webster who assumed the alias of "Maggie Sottero" in honor of her great-grandmother. Since then, Maggie Sottero has introduced hundreds of new wedding dresses seasonally and has launched two more labels: Sottero and Midgley and Rebecca Ingram. 
Of the family's expertise in the industry, Lesley's daughter and Head Designer, Kelly Midgley, says, "Our philosophy of value and innovation hasn't changed. From initial concept to final touches, each gown embodies our pursuit of perfection."
 Maggie Sottero's wedding dresses are designed for any and every love story. The design house is committed to impeccable styling and detail—so every wedding dress is unique and romantic. Whether you're looking for a huge tulle ball gown or something a-line with a stunningly deep v-neck, there is sure to be a Maggie Sottero wedding dress for you. 
How much does a Maggie Sottero dress cost?
Maggie Sottero Designs creates gorgeous wedding dresses for brides at almost any price point. However, a lot of the price depends on which brand under the Maggie Sottero Designs umbrella you are purchasing from. 
Maggie Sottero Designs houses three iconic labels: Maggie Sottero, Rebecca Ingram, and Sottero and Midgley. These distinctive collections offer a variety of gorgeous gowns for brides with different budgets and personal styles. 
Maggie Sottero is the core brand, known for classic wedding dresses with a perfect fit, unique embellishments, and intricate lace motifs to match every bride's personal love story. These Maggie Sottero wedding gowns range from $1,100 to $2,500.
Sottero and Midgley offers couture designs, perfect for fashion-forward and statement-making brides. These beautifully unique bridal dresses come at incredible price points for couture, ranging from $1,400 to $4,000. 
Rebecca Ingram styles are timeless, elegant, and affordable and usually cost between $800 and $1,200. These may be wedding dresses designed for the budget-conscious brides, but they certainly do not lack in style and class. 
What is the size range of Maggie Sottero wedding dresses?
The Maggie Sottero, Sottero and Midgley, and Rebecca Ingram collections offer wedding dresses from a size 0 to 28. In 2018, the design house launched a new collection of Curve gowns that feature additional coverage and support to complement a woman's figure, so we can all feel like the best version of ourselves.
The Curve collection of Maggie Sottero wedding dresses represents only one way that Maggie Sottero has dedicated themselves to diversifying the industry of popular bridalwear. The Curve bridal gowns are in figure-flattering styles with the additional coverage and support needed to make every bride feel beautiful. The company joined forces with Ms. Liris Crosse of Project Runway to promote self-love and body acceptance while showcasing the impeccable fit of these new curve-displaying designs.
Built-in support isn't a unique concept to the Curve wedding dress line, however. Maggie Sottero Designs also creates dresses with built-in shapewear to flatter every type of figure. This added structuring makes sure that you don't have to purchase any additional shapewear that may affect the line and fall of the gown itself or might just add uncomfortable extra bulk. 
Above all else, however, confidence and comfort remain key tenants of all Maggie Sottero wedding dresses. There's no need to choose between looking glamorous and feeling great with a Maggie Sottero wedding dress, as a selection of their designs are made with a jersey lining. This super-soft fabric hugs the body without feeling too tight or constricting—brides say it's like wearing your comfiest pajamas.
How would you describe the Maggie Sottero bride?
The Maggie Sottero bride is timeless, glamorous, and romantic. They realize that being sexy can also mean being comfortable in your own skin. They might be fed up with the search for the perfect dress, but they also realize that there is no better time to feature your own personal style than on your wedding day. 
Maggie Sottero wedding dresses have always been evidence of Maggie Sottero's dedication to innovating by continuing to build on the tried-and-true classics. Maggie Sottero Designs was the first wedding dress designer to create the corseted two-piece silhouette wedding dress. 
Besides offering wedding dresses in a variety of shades of white—any bride can tell you that cream and eggshell are not the same—Maggie Sottero is always known for their iconic red wedding dress, circa 2003. They also have some stunning dresses in black, if you're really looking for something to make a statement.  
A Maggie Sottero bride also isn't afraid to say exactly what she wants in her wedding dress. To help brides personalize their wedding day look, Maggie Sottero Designs offers ready-to-wear accessories such as detachable trains, overskirts, capelets, and veils. 
Whatever your personal style may be, Maggie Sottero wedding dresses are available in a wide variety to make brides look and feel their absolute best on their wedding day. 
Where can you buy a Maggie Sottero wedding dress?
Maggie Sottero Designs' wedding dresses are available in all 50 states (and 70+ countries) and can be found at some of your favorite retailers and bridal shops. To find the one closest to you, click here.
Because of the immense range of styles of Maggie Sottero wedding dresses, from stunning v-neck designs to dreamy ball gown numbers, we are sure that you will find the wedding dress of your dreams at any number of bridal boutiques. 
Where are Maggie Sottero wedding dresses made?
Maggie Sottero has wedding dress design studios in Sydney, Australia and Salt Lake City, Utah. However, some Maggie Sottero wedding dresses do use imported materials and fabrics.
What Maggie Sottero wedding dress is best for me?
To give an idea of all of the beautiful wedding dresses in the Maggie Sottero line, we've selected four bridal dresses from each of the three labels to highlight the versatility of the Maggie Sottero wedding dress brand. 
1. Zuri from Maggie Sottero 
We absolutely love this sequined tulle ball gown with a ruffled skirt that adds volume without weight and a plunging v-neck. 
2. Courtney Leigh from Rebecca Ingram
This cap sleeve wedding dress is perfect for someone who wants a little bit more modesty without losing any of the elegance. Check out the pearl button detailing on the back! 
3. Abbott Dawn from Sottero and Midgley 
This vintage sleeveless design with a v-neck is the definition of "simple elegance," and we love the illusion lace cut-outs on the wedding dress train.
4. Warren from Maggie Sottero 
This long-sleeve, a-line dress is one of the jersey-lined wedding dresses we mentioned earlier; you would never guess that this gorgeous bride is also incredibly comfortable!
5. Remy from Rebecca Ingram 
For those of you who want a true princess wedding, check out this full-bodied wedding gown with exposed boning and floral lace elements. 
6. Finley from Sottero and Midgley 
If you're looking for a wedding dress with sleeves, the search is over. Check out this incredible lace wedding dress with a sheer lace bodice and illusion lace sleeves. 
7. Jayla from Maggie Sottero 
We love this cold shoulder wedding dress with a more fitted bodice and a mermaid-style train for a very "Old Hollywood" look with a modern twist. 
8. Hattie from Rebecca Ingram 
For another mermaid style, check out this strapless v-neck wedding dress with beautiful large floral lace detailing over tulle infused with glitter that will truly show off your gorgeous natural shape. 
9. Mathias from Sottero and Midgley 
Our absolute favorite part of this wedding dress is the keyhole back that beautifully complements the bodice studded with crystals and pearls. 
10. Zareen Lynette from Maggie Sottero 
This beautiful illusion layered wedding dress is fit for any dreamy bohemian aesthetic and features cascading motifs that create a beautiful shape. 
11. Danica from Rebecca Ingram 
For a simpler bride, this sheath wedding dress is sure to show off your stunning natural beauty, with a double trim under the bust line to enhance your shape.
12. Santiago from Sottero and Midgley
Finally, this wouldn't be a list of Maggie Sottero wedding dresses without something a little out of the box. This black and nude wedding gown is absolutely gorgeous with the symmetrical lace beading down the sides and the subtle v-neck. 
Maggie Sottero wedding dresses have something for every bride of every size. We are sure that you will be able to find the right wedding dress for you!