Going to a wedding as a plus one is tons of fun — unless your date is in the wedding party. Then, it can put you in a pretty awkward position. What if you don't know anyone else? What are you supposed to do while your significant other is busy with wedding party duties?
1.  Enjoy some me-time.
Your date might have to arrive to the wedding early for attendant activities, but you definitely don't! While he or she is busy, indulge in a little "me time," whether that's sleeping in, getting out for a run, or booking an appointment at a nearby spa.
---
2. Room with a fellow plus one.
If the whole wedding party is staying together, you might be on your own when it comes to lodging. So, see if you can buddy up with another date who's flying solo for the night. You'll feel less lonely, have way more fun, and save a few bucks.
---
3. Go exploring.
In between the ceremony and reception, your S.O. may have to go take photos or help with reception set-up. No need to follow the wedding party around! If you've got time to kill, head to a local coffee shop, take a nice walk, or visit another attraction.
---
4. Make a friend.
First, find out if anyone else at the wedding party has a straggler significant other. If so, find them early in the day and stick together. If not, try to seek out another friend — maybe a guest attending the wedding without a date.
---
5. Play social butterfly.
Shyness will just make the night awkward, so even if it takes all your energy, try to talk to as many people as possible. That way, you'll never feel awkwardly alone. A simple "How do you know the happy couple?" is a great opening line!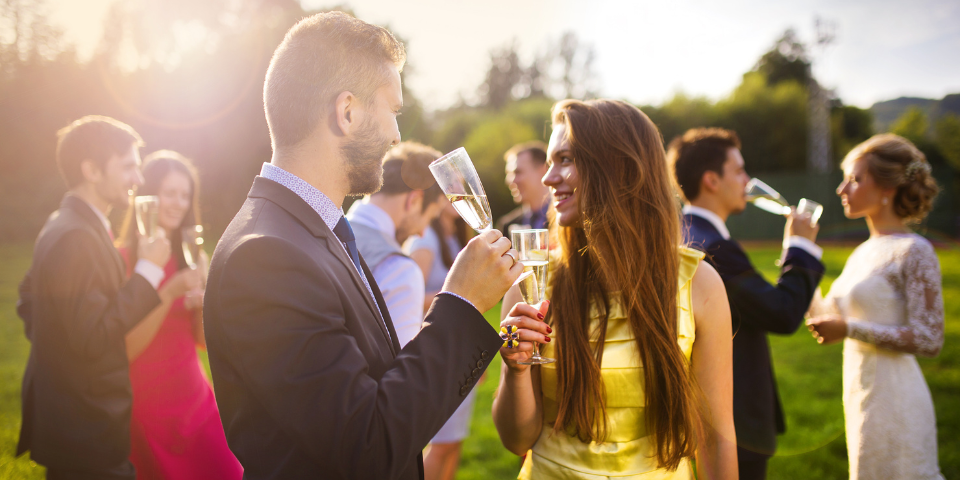 ---
6. When all else fails, just hold out until dinner.
Wedding party responsibilities generally end after dinner — you can make it till then! After that, your date will be all yours for drinking, cake eating, and of course, dancing!
More like this