8 Questions to Ask Before Attending Your First Bachelorette Party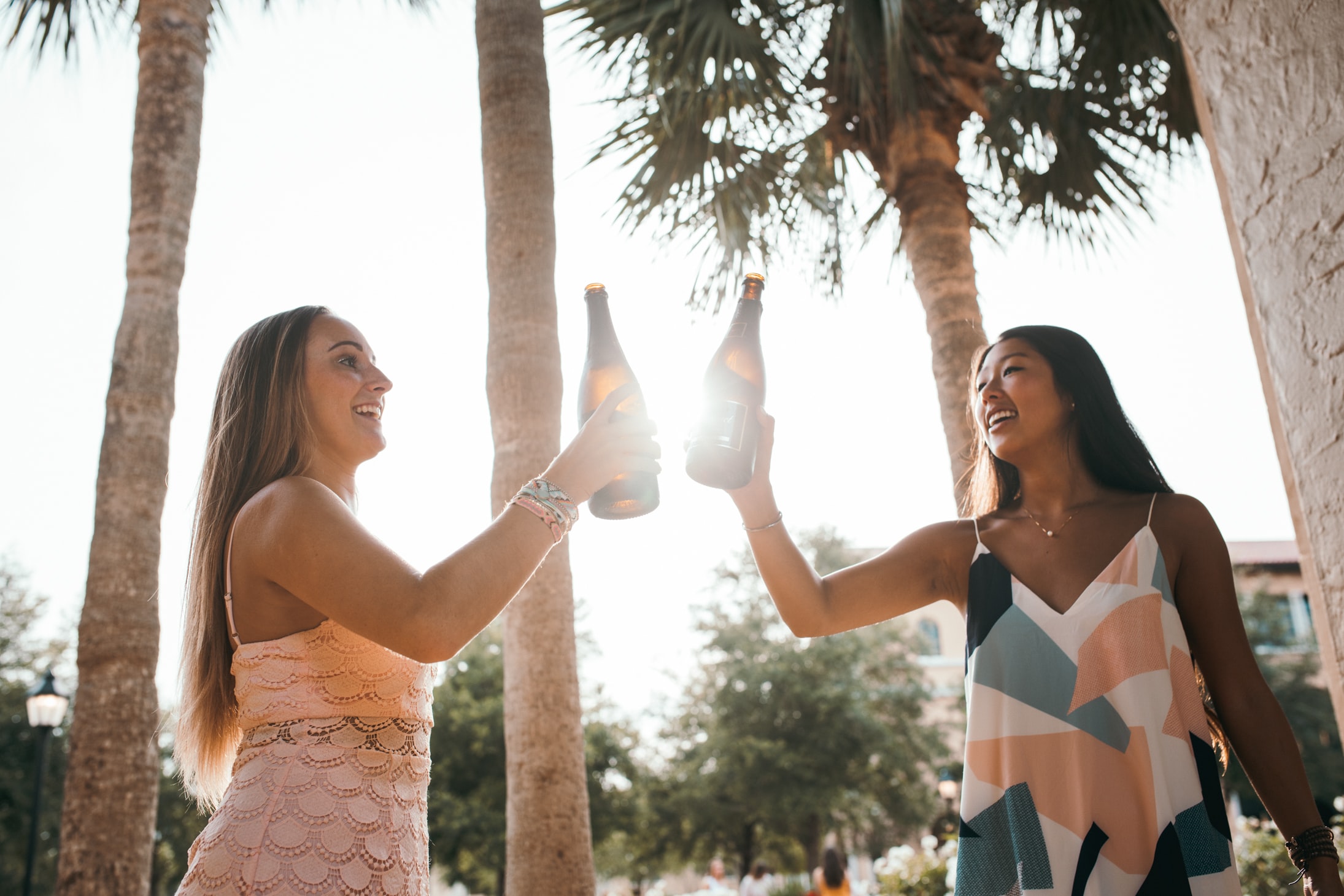 Two friends cheering
Got your first invitation to a bachelorette party and not so sure what to expect? We're here to help with answers to your most-asked questions:
1.
What is a bachelorette party?
A bachelorette party also know as a hen party or hen night is a party held for a bride to be in celebration of her final days as a single woman.
2.
What really happens at a bachelorette party?
This is a tricky one, because these days, women are having all kinds of bachelorette parties. Lots of brides-to-be choose to celebrate with a spa day, a wine tasting, a weekend camping trip, or anything that fits their interests. If that's the case, your invitation will tell you!If that's not the case, you're likely in for a classic bachelorette bash — a fun girls' night out! Expect to start with dinner, maybe a small activity, and then a night at a bar or club.
3.
What should I bring to a bachelorette party?
First, ask the host if she needs help stocking up on food, drinks, or decorations. You could offer to get the bride a fun veil to wear out or suggest a fun game.
Also, plan to bring some extra cash. In most cases, the guests don't let the bachelorette pay for anything, so plan to buy the bride-to-be a drink or two. Plus, you can offer to chip in for other costs.
4.
What do I get someone for their bachelorette party?
While gifts typically aren't expected, since the bride will likely be treated to the entire celebration, some bridal parties opt to shower the woman of the hour with risqué presents — think sex toys and lingerie. Sometimes, the party invitation will tell you the bachelorette's size so you can buy lingerie or a sexy outfit that fits.
If you're uncomfortable with the sexy stuff, you could go the funny route — maybe customized undies with "The Future Mrs. ______." Or, you can give the bride a gift card to a spa, a nice bottle of liquor, or something else you think the bachelorette will like. No matter what, we're sure you'll find something in this
awesome bach gift guide
!
5.
What do I wear to a bachelorette party?
These days, coordinated outfits are a popular pick. You might be asked to wear a T-shirt or tank designed just for the event, or instructed to wear a black dress (while the bride wears white). If you need to wear something special, it'll say so on the invitation (or the host will tell you). No special instructions? Wear whatever you're comfortable and confident in (but maybe avoid white, just in case).
6.
So…what about the sex stuff?
Some bachelorette parties are full of sexual innuendos (like phallic decorations) or even more risqué events (like a stripper or). It's usually just a way to tease the bride-to-be. If you're worried about the dirty stuff making you uncomfortable, ask the host ahead of time what to expect. That way, you'll know if you should plan to leave early (or skip it altogether).
Whether you don't like to drink or can't at the party, you shouldn't turn down an invitation just because alcohol isn't your beverage of choice. You can always leave early or offer to be the designated driver if you really want to avoid the drinks.
8.
Do I have to go to the bachelorette party?
Nope. Just like you don't have to attend a wedding or birthday party you're invited to, you're perfectly entitled to politely decline your invitation — no matter your reason. But if you're invited, chances are the bride-to-be wants you to be there!
More like this