Fashion
How Renting Your Groomsmen Attire Could Be The Answer (You've Been Hoping For)
There are many questions while shopping for groomsmen attire that are often left unanswered until you're staring into the mirror saying to yourself, "No, this just isn't going to work." Save yourself the time and effort of having to go from department store to department store wondering what to wear as a groomsman and instead spend your time focusing on the best way to get the most bang for your buck when it comes to your style.
Fortunately for the groomsmen and bridesmaids, the wedding couple have already figured out the wedding theme and colors of the wedding party attire. Nevertheless, you'll still need to find a nice fit at a reasonable price because yes, as a groomsman you'll still be expected to pay for your wedding attire just like anyone else at the party.
Pro Tip:
The most trending fits for groomsmen suits and tuxedos are slim and modern fit.
As the groom, although your groomsmen's attire is supposed to compliment your suit color, you still have to decide on subtle differences. For instance, will you be the only one wearing a bow tie or is the difference marked by a colorful pocket square? Maybe your groomsmen attire could be lighter colors, or maybe you'd rather them match with the overall wedding color, but your groom's attire can play an entirely different color scheme.
Before we dip into those specific questions you're sure to ask after you've found your
wedding day attire,
let's clear up some of that initial confusion like dress code etiquette and how wedding themes affect your style choices. We'll give you a basic rundown of all the things you should keep in mind before renting a tuxedo and then, going deeper into it, with a few style tips on how to match your tuxedo with a shirt, tie, belt, and shoes.
Decoding Dress Code Etiquette
While weddings have always been considered formal occasions, in modern times they have been displaying varying degrees of casualness. One thing you should always abide by is the dress code.
If it's a 'Black-Tie' wedding, as a part of the groomsmen attire, you'll all be wearing bow ties, then you'll want to go for those dark colored tuxedos or suits.
'Formal' is slightly more lax, giving you a bit more options on how you match your suit with a vest, a shirt, a tie, and shoes.
It should be noted that 'Dressy Casual' as well as 'Casual' does not imply that you don't have to wear a button down shirt and dress pants, it just involves more options such as khakis, short sleeves, and loafers.
Even at casual weddings you still want to look good, especially if you're a part of the wedding party. So double check with the best man or the groom himself if you're unsure.
How Wedding Themes Affect Your Style
Wedding theme's play a huge role in what you'll be wearing and in some cases opens up a whole variety of options you'd otherwise disregard. But with more variety comes more questions!
If you're attending a beach wedding in warm weather, you'll want to wear lighter colors with breathable fabrics such as a
linen suit
so that the only time you break a sweat is on the dance floor.
Try to find out whether you'll be on the sand for most of the day or not. Beach weddings aren't always on the sand. They could be at a resort or restaurant overlooking the beach which would help you save a bit of time looking for shoes when all you actually need are sandals or loafers. Sometimes a suit jacket isn't even required. Who knows, maybe you won't even need a bow tie after all.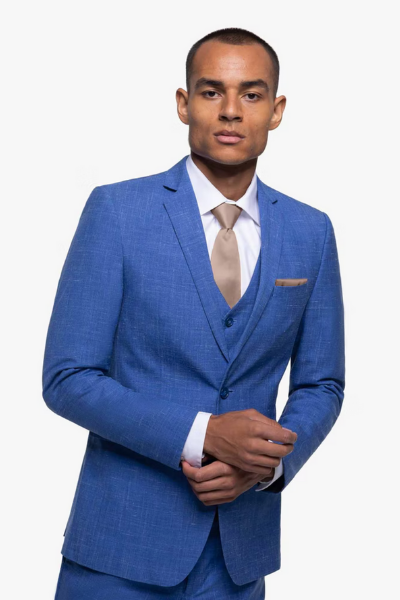 Although Boho weddings may sound dressy-casual at first glance, it's usually the location you want to match. A 
black tux
 in the forest isn't really going to fit too well. Nor would a 
beige suit
 work well in a castle.
Pay close attention to the location of the wedding as well as the color themes surrounding the stationery, particularly if you're the bride and groom selecting colors for your wedding attire.
After you've found your dream tux
You'll hear yourself asking, "Now, what matches with this?" once you've finally found your dream tux. You may think the hunt is over, the hard part is done, yet most of the questions you'll be asking yourself aren't until after you finally find the tuxedo. 
The vest, the shirt, the tie, the socks, even the shoes and the belt all help compliment the suit you've chosen. So you don't want to seem either too busy or too plain when it comes to matching and blending, you'll want to maintain a balanced and polished look.
Matching your tuxedo with shoes
The general rule of thumb is to match the shoes with the suit in shade, so if you've chosen a
dark suit
, try on a dark pair of shoes.
Brown shoes
work well with a lot of colored suits such as
Navy Blue
, Beige, Brown, and light shades of gray.
Black shoes
are best with black and darker gray tones.
Pro Tip:
Make sure to match your belt color with your shoes for a polished look.
The Shirt & Tie / Bow tie
Perhaps the two most customizable options you'll have once you've got the tuxedo taken care of are the shirt and tie. If you're wearing a 
dark suit
, you'll be more inclined to choose a 
lighter color shirt
, but a 
bold colored tie
, so that your tuxedo doesn't fall into the background. Always be willing to ask for a second opinion just so you know for sure all the colors go well together. For other accessories such as the socks and the pocket square, if it isn't a solid color you should at least match one or two of the colors, either from your tuxedo, shirt, or shoes.
Renting your Wedding Day Attire VS. Buying
More often than not, grooms only wear a tuxedo 1-2 times in their ENTIRE life. Since you're already making the biggest commitment of your life, why commit to an overpriced tuxedo that you'll probably never wear again? 
Finding an inexpensive tuxedo rental shop that has all of the on-trend styles and the most efficient and easy-to-use service will be a godsend for your groom-to-be. One of the reasons why we love Generation Tux is that it has the BEST online customer service, hundreds of styles and accessories to choose from, AND many free perks.
When it comes to buying a tuxedo, it definitely isn't cheap. Buying one can rack up to hundreds and sometimes thousands of dollars especially if you're having it custom fit, and that's not even including your shoes, tie, and accessories.
So why spend so much money on custom design and time spent at the tailors when you can simply go online, answer a few sizing questions, and have your groomsmen attire sent straight to your door? Also, getting a tailored custom fit suit is a risk — most likely you'll change in size so that means you're going to have to spend more money getting future alterations.
Let's be honest, you will most likely only wear something this special once! Save money and use Generation Tux to find a stylish tux that you won't break the bank for.
Curated Groomsmen Attire

When you shop at Generation Tux you're essentially simplifying the process by guaranteeing a perfect fit with their innovative fit technology, so you can spend more time looking for the best groomsmen attire instead of worrying if they have your size or if you'll need to go to a tailor.

On top of that, Generation Tux also offers hundreds of curated looks with each of their 25+ suits and tuxedos! So you can customize and tweak their looks to fit your own personal style.
Styles Change All The Time

You want the most modern look for your wedding, but when you buy a tuxedo, you're often stuck with choosing something pretty boring, because you're afraid your wedding look will become dated and you won't be able to wear it again. Well, you're right…styles do change–so go for that maroon tux or the colorful bow tie by renting it, and don't worry about the future because you won't ever have to wear it again!

One thing we know for sure is that fashion styles change every season. So, don't get stuck with an expensive and outdated tuxedo after your big day. From conservative to stylish, to adventurous, to just plain outrageous… That's what we love about renting a tuxedo – it's your choice and the possibilities are endless!
Variety of Styles
Online tuxedo rental sites like
Generation Tux
offer a wide range of styles, materials, colors, and the most up-to-date trends designed to meet any groom's style.
But it's not JUST the suit or tuxedo, renting means you can get your entire look including accessories like the vests, pocket squares, ties, socks and even shoes. It is a literal one-stop-shop that will make your life so much easier. 
Commitment Free
Nervous about ordering online? Before you actually commit to a specific style of suit or tuxedo, the wedding couple can try on their wedding day attire in the comfort of your
home for free
. So, you don't have to say "I do" until you can see how your ensemble looks and feels.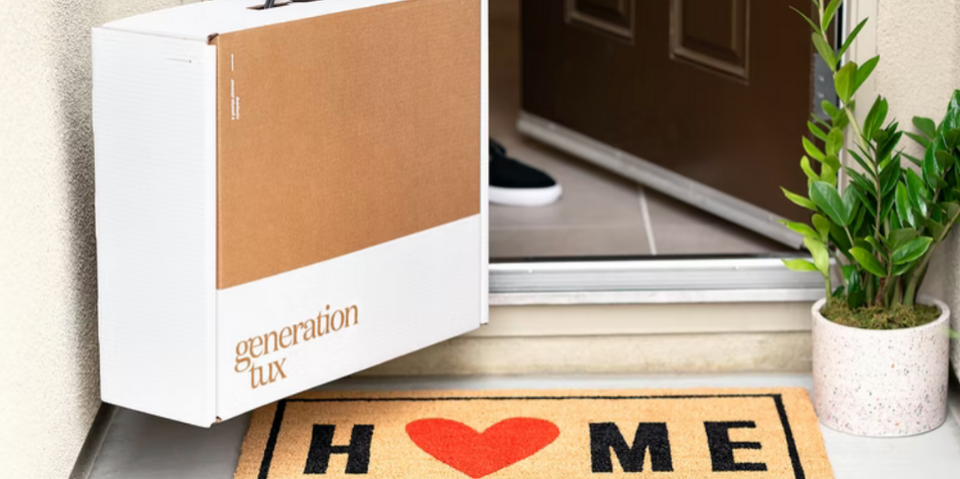 Save Tons of Time
Instead of wasting hours going to an old school tailor shop multiple times for fittings, you can simply answer a few questions about your body type, and thanks to the power of technology (hello algorithms!)
Generation Tux's
eTailor will find the right fit for you. You can literally rent your tuxedo or suit without ever leaving your home.
Cost Effective and Affordable
Renting a suit is going to save you hundreds to thousands of dollars. The average cost to buy a quality suit or tuxedo for your wedding is anywhere from $500 - $1000+. That's a lot of cash for something you're only going to wear a few times.  While renting a suit or tuxedo for your wedding costs around
$149 (a fraction of the price
). So, save your dollars and rent a sharp suit that will still make a statement.
Pro Tip:
To qualify for the groom free promotion, you need to have 5 paid rentals to get the 6th free.
Higher Quality
With a trusted online rental service like
Generation Tux,
you can count on them to use the finest quality materials such as super 130's and 140's merino wool. Not only will your look be elegant and fashionable, the fabrication of each garment is going to be top notch, too.
Each wedding has its own unique style and theme that you should observe accordingly beyond the dress code.. Even if you do want to keep the tux or suit, the chances of it matching exactly with another big event as well as your older self are slim. So ditch those sentimental attachments on buying a tux and rent one with
Generation Tux
!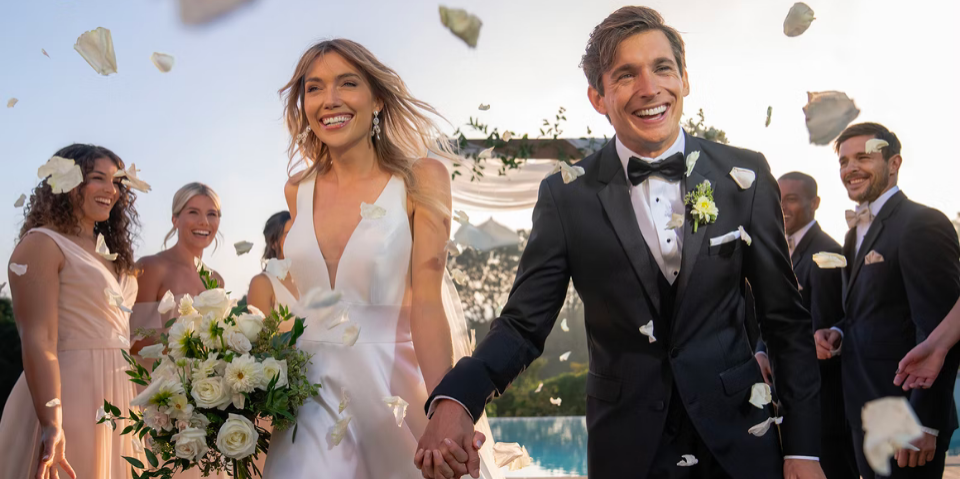 We know you only deserve the best, that's why we only partner with brands we trust and love! This article is sponsored and may contain some affiliate links.